• Bat Monster • Bobo Coconut Monster • C-Toys • Japanese Toy • Konosuke Chishima • Qpop Exclusive • Ramune • Soft Vinyl Toy • Sofubi • Toys • Upper Sky Monster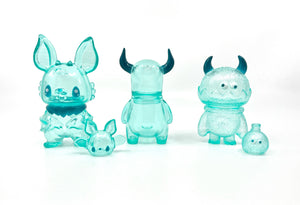 Qpop exclusive color "Ramune" from C-Toys
---
• Ayako Takagi • Exhibition • Japanese Toy • Soft Vinyl Toy • Sofubi • Solo Show • Uamou • UAMOU & Boo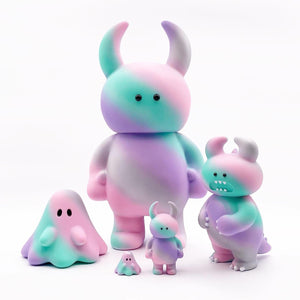 We are so proud to announce that Q Pop is hosting the very first UAMOU Exhibition in the USA. This show will be featuring original UAMOU & BOO paintings & Vinyl Toy limited series only for QPOP. That means our gallery will be taken over by UAMOU & BOO!!! How fun!!! We will have pre-sale figures and canvas art by Ayako Takagi, as well as stickers and acrylic keychains with our cooperation. The show was originally scheduled to start on 10/22/2022 but because the shipment was extremely delayed, we have to move the opening date to 10/29/2022. This show will...
---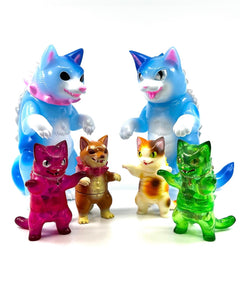 Very beautiful Birth Stone Negora, Ruby & Peridot just arrived at our store. The Ruby version is for people born in July. Negora body is a clear slightly purplish red soft vinyl. It comes with a real ruby stone necklace and a serial number card. Limited to 150 pieces. The Peridot version is for people born in August. Negora body is clear unique green color. It comes with real peridot stone necklace and a serial number card. Limited to 150 pieces. Made in Japan If you like to collect bigger versions, the Daioh Negora & Shibara are now available in...
---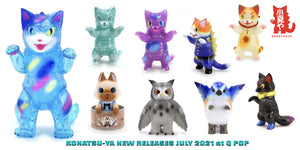 Insane good new batch of Japanese artist Konatsu's soft vinyl toys!  Included here are the new Daioh Negora Milky Way that features gorgeous blue transparent vinyl with stars and glitter!!! and the subdued sophisticated color scheme of the Mtarashi Dumpling...so sweet. and of course, the very popluar Emerald marble Negora, in all it's Jade like goodness. and more...much more... All Made in Japan 100% genuine soft vinyl All are super limited !!!.... so act fast.      
---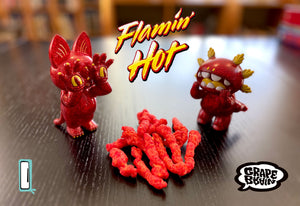 Q Pop's newest exclusive color way, inspired by the famous snack...you know what we're talking about!!  Gorgeous fiery red glitter inside each soft vinyl figure. Made in Japan limited to 1 per customer.