SOFVI
ART PRINTS
ORIGINAL SHIRTS
BOOKS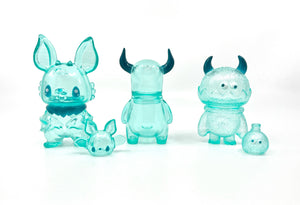 New C-TOYS Ramune color ver. Monsters - Qpop exclusive reproduction from Konosuke Chishima
Beautiful transparent colorway recalling nostalgic memories of the classic citrus soft drink from Japan.....RAMUNE (ラムネ)!
This series includes the characters Bat Monster, Upper Sky Monster &  Bobo Coconut Monster. They are 50 pieces limited each character. 
Medium: Soft Vinyl, Hand Painted, Made In Japan
BUY
ART JUNKIE POP UP SHOW exclusives 9-22-21
Awesome classic anime themed exclusive color ways available only at Q Pop online on 9-22-21 at 10am. Very limited quantities. Hand painted by the artist. Made in Japan soft vinyl.
BUY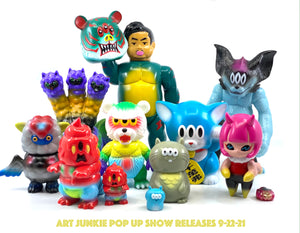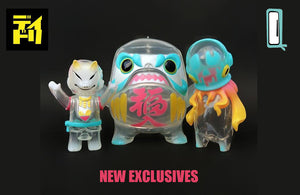 New UKYDAYDREAMER Exclusives...8-24-21
3 of Japanese artist Ukydaydreamer's most famous creations available in a gorgeous exclusive colorway. Clear 100% Japanese soft vinyl with mustard, sea foam, and pink and white highlights! Limited to 1 per figure per customer.
BUY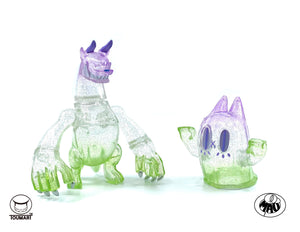 HOUND DRAGON & BEN
Q Pop's new exclusive releases of Toumart's Hound Dragon and Mao's Ben the Ghost Cat are coming on May 5 at Noon pst. Clear sparkly soft vinyl creates the fizz with grape purple and lime green accents...Fizzy ...Wizzy! Wow! BOOM!
BUY
EXHIBITIONS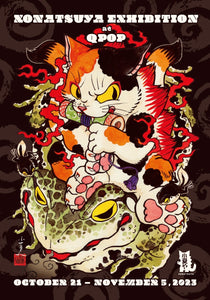 We are so excited to announce our newest exhibition with Japanese artist Konatsu....after 4 years!! Exhibition will be available for viewing  October 21st - November 5th 2023 Show opening...