• Cat with antlers • Japanese Toy • Kaori Hinata • Morris • Soft Vinyl Toy • Sofubi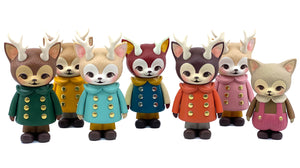 Qpop is so excited to have these beautiful Morris figures!!!  Morris is the cat with the Antlers. All colorways are limited and sold out in many stores around the world. All these figures by Kaori Hinata are hand made and hand painted. She also sculpted them. The Morris size is 5", Kitty Morris is 4".  Which color is your favorite ? Orange coat, baby blue coat, sakura pink coat, Yellow rain coat and british green coat (classic ver.) Get Morris Click Here
---
• Cat with antlers • Inu Harigon • Japanese Toy • Kaori Hinata • Morris • Soft Vinyl Toy • Sofubi • Teresa Chiba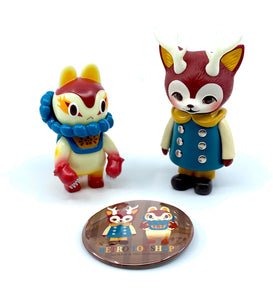 Teresa Chiba and Kaori Hinata join hands to come up with this adorable set of Morris & Inu Harigon. This set is the 2nd colorway & is a Japan only release at their Retro Toy shop..  Features: Inu Harigon body & Morris horns are glow in the dark...OOOO...fun!  Each set comes with the pin badge as a bonus. Size: Inu Harigon 4", Morris 5" Both are made in Japan Qpop has some sets available online and also a few of each available separately. They will be gone quickly!!!! Visit out online store to check them out.. we have another color of...
---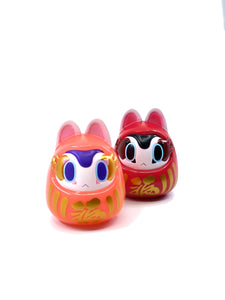 Teresa's art is inspired by traditional Japanese folk art and this is her Inu Harigonified version of the Daruma. Daruma is a traditional Japanese doll modeled after the Bodhidharma, a monk and creator of Zen Buddism. But the has taken on more symbolic meaning and genarally is used for good luck and wish fulfillment. Qpop has 2 colorways, sakura translucent pink & classic red. Their size is about 3.5". They're available in both store front & online stores. Grab them before they are gone.  Teresa's Inuhari-Daruma items: Click Here
---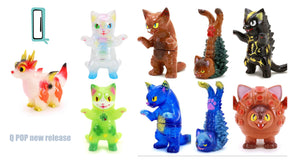 This Thursday 6-24 at around noon, we will be dropping a new batch of toys from Japanese artists Konatsuya.  Ryudora - Nishiki  Nishiki means "brocade", most likely deriving from ni meaning "red" and shiki meaning "repetition" The body has red spots, red flame & red tail. In contrast, the horns & foot are gold.. This spice up the cuteness level... Negora - Rain Drop ver. The body is transparent. There are red-green glitter all over the inside of the body. The combination of the color on its spike is pretty kawaii..pink, yellow, blue & minty. Even more special is its...
---
Q Pop's new exclusive releases of Toumart's Hound Dragon and Mao's Ben the Ghost Cat are coming on May 5 at Noon pst. Clear sparkly soft vinyl creates the fizz with grape purple and lime green accents...Fizzy ...Wizzy! Wow! BOOM! All Made in Japan soft vinyl. Hound Dragon has 5 points of articulation  Ben the Ghost Cat has posable arms both are Limited Edition